Negligence Committed by aProfessional
Even Professionals Can be Negligent
Unfortunately, negligence can even occur in a professional context. Injuries from medical negligence can last a lifetime. A lawyer's negligence could prevent your claim from being presented. I have experience with both of these types of cases and can help you recover all the damages you're entitled to. If you've been harmed by the negligence of a professional contact me for a free consultation.
Table of Contents: for your convenience, below are quick links that will take you to the corresponding sections lower on this page.
If You've Been Injured and Need Answers
If you've been injured and are seeking an experienced and dedicated personal injury attorney, contact me for a free consultation.
Types of Malpractice I Can Help You With
I can help you pursue claims for the alleged negligence of a professional in the areas of medicine or law.
Medical Malpractice
Legal Malpractice
Helping You Navigate the Complexities of the Legal System
Careful What you Say
Once you start talking you're creating evidence that could be helpful or hurtful. Be mindful when talking to the following that you act in your own best interest.
Insurance Companies - Insurance companies train their representatives to handle cases like yours every day. You are at a disadvantage from the start. Calls with an insurer typically start off with the statement, "do you consent to this call being recorded." From the beginning, evidence is being obtained. Before providing a statement to an insurance company, you should talk with a lawyer.
Law Enforcement - Statements made to law enforcement may be included in their reports and relied upon by insurers and experts.
Friends and Family - Don't talk about privileged conversations with your lawyer, or about your case. You should not discuss, text, or post anything about your case with anyone other than your legal team. You should otherwise live your life as if there was no claim or lawsuit.
Social Media - Just don't. Whatever you share on social media can be used against you. If you have social medical accounts, consider adjusting your privacy settings, and restricting what is posted publicly.
Doctors - You should follow medical advice as if there was no claim or lawsuit. Be sure to explain to your medical providers how your injury occurred. Don't minimize any aspect of your injuries.
If you have been injured by the negligence of others, contact me for a free consultation.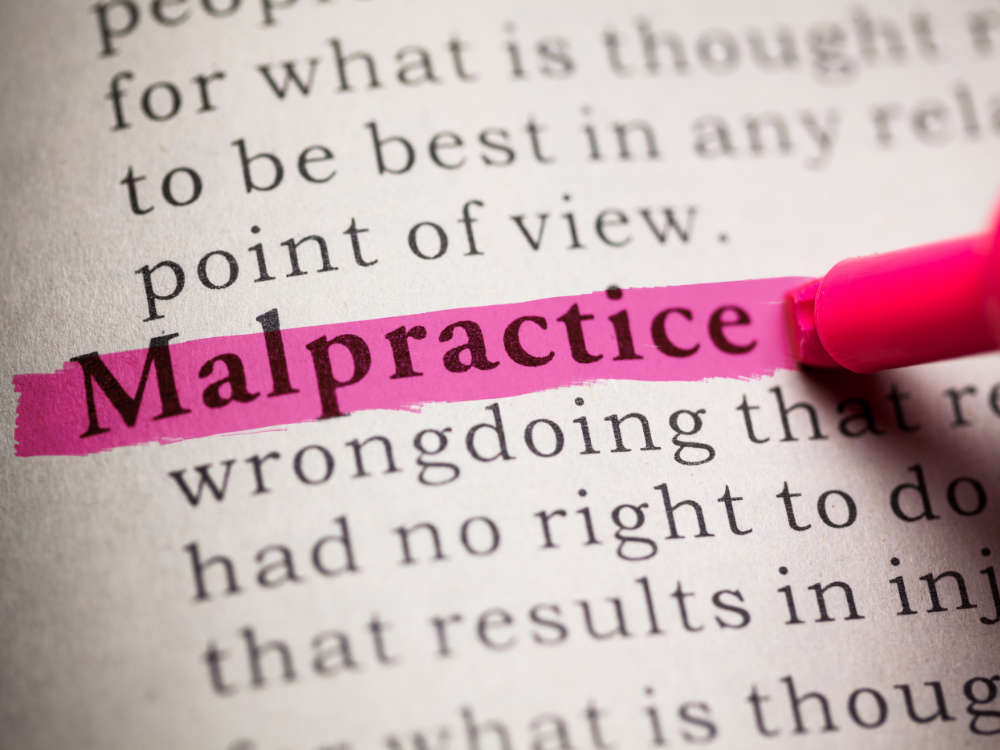 Negligence vs Malpractice
Negligence can be committed by anyone or any entity. Malpractice is negligence committed in a professional capacity.
Medical malpractice is negligence of a medical provider.
Legal malpractice is negligence of a lawyer.
If you believe you've incurred injuries or damages as a result of malpractice, contact me for a free consultation.
Elements of Malpractice
There must first be a doctor-patient relationship or an attorney-client relationship.  Then, generally, it must be established that the professional acted below the standard of care of similarly situated professionals. A professional has a duty to exercise the degree of skill and care expected of a person in that profession. Failure to exercise such skill and care constitutes a breach of the standard of care and is negligence.
The two elements of malpractice are:
Breach of the standard of care
Damages caused by the breach of the standard of care
Malpractice Lawyer in Everett WA
If you have questions and are looking for answers regarding an injury incurred by the negligence of a professional, give me a call. I provide free consultations to assess the merits of cases. Contact me for answers and to find out whether I'm the right fit for you and your situation.
Malpractice Waiver
A malpractice waiver could be where the professional is asserting that you waived any potential malpractice claim against them. If a professional claims that you've signed a malpractice waiver you should contact a lawyer.
A malpractice waiver should not be confused with an Informed Consent Form, which is a form that is signed before a medical procedure explaining the procedure and the risks of the procedure.
How Do You Know if You Have a Malpractice Lawsuit
Ultimately, you won't know if you have a malpractice lawsuit until an expert concludes that the standard of care was breached and damages resulted from that breach. If your result was not what you expected and you believe you've been harmed by a professional, contact me for a free consultation.
When To Sue for Malpractice
In Washington state, a case does not become a lawsuit until it's filed with the court or a process server serves the defendant.
It's possible that a claim can be settled before it becomes a lawsuit. If you believe you've been injured due to an error by a professional you should contact an attorney as soon as it's convenient. If you wait too long, evidence may not be available, witnesses may be difficult to locate, or the statute of limitations may run out.
How To Prove Malpractice
In most cases, expert testimony is necessary to establish that the professional failed to follow the applicable standard of care which resulted in damages.  Cases will involve the testimony of fact witnesses ( non-expert witnesses), and expert witnesses who are qualified by education, experience, and background. If the jury believes that the plaintiff proved their case on a more likely than not that basis, the plaintiff prevails.
Statute of Limitations for Malpractice
In Washington, the statute of limitations for a personal injury case is three years for most situations (RCW 4.16.080(2)).  The statute of limitations for medical malpractice claims is also three years for most situations (RCW 4.16.350).  It's best to pursue the case as soon as possible.  There are always exceptions and special circumstances that may apply.
For claims against the Federal Government, The Federal Tort Claims Act requires a notice of claim to be submitted no later than 2 years after the incident, and then a lawsuit must be filed within 6 months of the claim denial.  If you decide to pursue a claim you should do so as soon as possible.
Malpractice FAQs
The following are common questions that people have about personal injury. If you have other questions, give me a call or text at 425-374-4907. I'd be happy to give you a free consultation.
What to Expect
When you're hurt, you probably don't know what to do. You have competing insurance companies calling you and you're unclear of their roles and agendas. You may not be fully aware of the benefits you qualify for from your own insurance company — when was the last time you read your policy? — or even who all of the potential at-fault parties are regarding your injury.
The sooner you call the sooner your situation can be evaluated and explained to you — and the sooner I can start working to get you taken care of.
Example of what your experience might be like — from intake to completion
Free Consultation (typically done in person)
If hired, an agreement is signed by both parties. No retainer or advanced cost is required
Notice of representation. I will contact and work with all of the involved Insurance companies.
Ensure medical treatment is given and the proper insurer is paying for it
Assist with damaged vehicle if applicable
Acquire medical records when needed
Once treatment is done, the value of the case can be assessed based on all information available
Settlement negotiations occur
If no settlement is reached a lawsuit is filed
After a lawsuit is filed, a trial date is set
Discovery begins. Discovery will include interrogatories which are written questions answered under oath, and depositions where you'll be asked questions under oath. In some cases, you may be asked to be examined by a medical expert hired by the defendant.
Many cases settle after the discovery process concludes either informally or through mediation.
If not settled, then trial prep continues.
Trial proceeds.
The verdict is rendered and judgment obtained
Every case is unique and the above is just a general outline of what you may experience. Because both sides are continually weighing the strengths and weaknesses of the case, a case can settle at any time — even during jury deliberations.
Don't Let Someone Else's Mistake Ruin Your Life
Regardless of where you're at in the process, if someone else's mistake or negligence caused you an injury, please submit my free consultation form or give me a call at (425) 374-4907. I can help get things sorted out and make sure you're getting the medical treatment and benefits you're entitled to.
I look forward to discussing your case with you,
Derek P. Radtke